Adobe Acrobat Plug-In
The Topaz® Adobe Acrobat plug-in for PC and Mac allows you to add, pre-place, sign, view, and validate signatures in PDFs using Adobe Acrobat.
The Topaz Adobe Acrobat plug-in comes bundled with the following options:
Cryptographically bound to document for security
Time and date stamping added to signature properties
Used with standard Adobe signature fields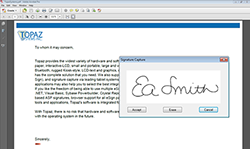 For use on a PC, download and install SigPlus before the plug-in. This step is not required for Mac use.
Version Number
For PC: Version 4.0
Last Update: April 20, 2015
For Mac: Version 1.0, R12294
Last Update: September 4, 2018
PC Requirements
- Windows 7, 8.1, or 10
- Acrobat Reader or Pro 9, X, XI, or DC
- Topaz Signature Pad
- Topaz Adobe Acrobat Plug-In for PC
Mac Requirements
- Mac OSX 10.9 or later
- Acrobat Reader or Pro XI, DC, or 2017
- Topaz HSB® Signature Pad
- Topaz Adobe Acrobat Plug-In for Mac