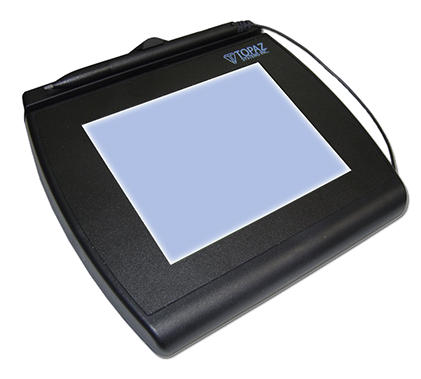 All Topaz® products come bundled with our powerful software tools and support for the capture, binding, and authentication of electronic signatures. All software and updates are licensed for use with Topaz tablets at no extra charge and can be downloaded here.
SignatureGem® LCD 4x5 includes all the high-quality electronic signature capture features of Topaz signature pads with the added feature of a backlit LCD interactive display, allowing users to see "electronic ink" under the pen tip as they sign as well as navigate and display text and graphics.
The large signing area and rugged tempered glass signing surface make this a versatile pad for the most demanding applications.
Remote Usage:
The following models are compatible in most remote environments
(see 'Models' tab at right). For more information on remote usage, refer to the Remote Usage page.
T-LBK766SE-BBSB-R
T-LBK766-BBSB-R
Accessories:

For -BHSB pad owners who wish to connect serially rather than through USB, the serial cable kit is the desired cable accessory.



Select replacement pens for your Topaz Systems signature pad.
Designed for your 9-PIN Topaz serial pad, this accessory allows for plug-in to a local network through a standard ethernet connection.
Designed to hold Topaz LCD signature pads, the tilt stand has a 360 degree rotation and up-to-45 degree tilt.
Replacement USB cables for your Topaz electronic signature pad.