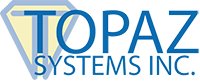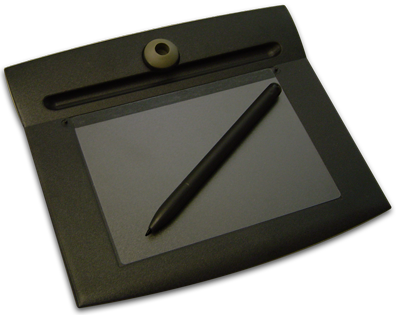 SignatureGem® 4x5 is a durable large-sized electronic signature pad with digitizing pen. The signing area is large enough to accommodate paper forms or receipts for clients while you maintain a paperless electronic copy. The pen features interchangeable inking and stylus tips, and the pad is powered only by the computer's data port. With the rugged signing surface, these models show the signature on the computer screen.
Remote Usage:
The following models are compatible in most remote environments
(see 'Models' tab at right). For more information on remote usage, refer to the Remote Usage page.
T-S751-B-R
Accessories:

Designed for your 9-PIN Topaz serial pad, this accessory allows for plug-in to a local network through a standard ethernet connection.

Select replacement pens and pen tips for your Topaz Systems signature pad.

Protect your Topaz signature pad with these signature pad screen protector overlays.
All Topaz® products come bundled with our powerful software tools and support for the capture, binding, and authentication of electronic signatures. All software and updates are licensed for use with Topaz tablets at no extra charge and can be downloaded here.
© 2015 Topaz Systems, Inc.