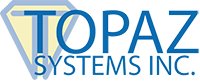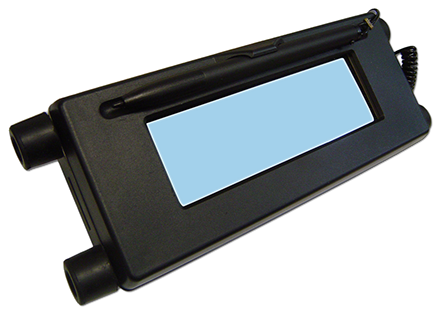 The LinkSign™ LCD 1x5 features all the benefits of Topaz® electronic signatures plus the additional feature of wireless capability. LinkSign LCD 1x5 is designed for transport in a pneumatic canister for drive-up teller applications.
This system is patented under U.S. Patents: 7,526,108 and 7,123,143 and other Topaz patents. Featuring a tempered glass LCD display, this model shows the signature on the signature pad, as well as the computer screen.
LinkSign LCD 1x5 system includes:
1. Wireless Signature Pad (T-RFLBK460-P6B-R)
2. Pad Charging Power Adapter
3. Four AAA NiMH Rechargable Batteries
4. Base Unit, Sold Separately (T-RFB100-P6B-R)
NOTE: Base unit includes base transceiver, base transceiver power adapter, and serial communications cable.
Remote Usage:
The following models are compatible in most remote environments
(see 'Models' tab at right). For more information on remote usage, refer to the Remote Usage page.
T-RFLBK460-P6B-R
T-RFB100-P6B-R
Accessories:

Select replacement pens for your Topaz Systems signature pad.
All Topaz® products come bundled with our powerful software tools and support for the capture, binding, and authentication of electronic signatures. All software and updates are licensed for use with Topaz tablets at no extra charge and can be downloaded here.
© 2015 Topaz Systems, Inc.