Sort based on your signature pad model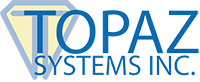 Select your Topaz signature pad from the list below to get started. Pads sorted by pad name and model number prefix (found on the back of your signature pad or tablet display).
NOTE: If your signature pad is not listed, replacement pens may not be available. Contact us for more information.
© 2017 Topaz Systems, Inc.